Find a Solution with a Custom Waterworks Manufacturer in Canada
When you need waterworks for your business, industrial plant, or municipal facility, you deserve a reliable product that meets your individual needs. The product will withstand the design pressure, and it should serve you consistently for many years to come. That's exactly what you'll receive from Terminal City Iron Works Ltd., a waterworks manufacturer in Vancouver.
For over 100 years, Terminal City Iron Works Ltd. has provided customers with reliable standard and customized waterworks. We carry a full inventory of products at all times to help meet your requests –such as finding a solution for any of your iron casting needs, quickly and efficiently.
Our inventory includes:
Our Professional Affiliations
We maintain long-standing relationships with engineers and other professionals to better serve you. Our affiliates include several prestigious organizations:
American Water Works Association (AWWA)
British Columbia Water & Waste Association (BCWWA)
Coastal Water Suppliers Association (CWSA)
FM Global®
Municipal Services Association (MSA)
Public Works Association of British Columbia (PWABC)
Underwriters Laboratories of Canada (ULC)
Water Supply Association of British Columbia (WSABC)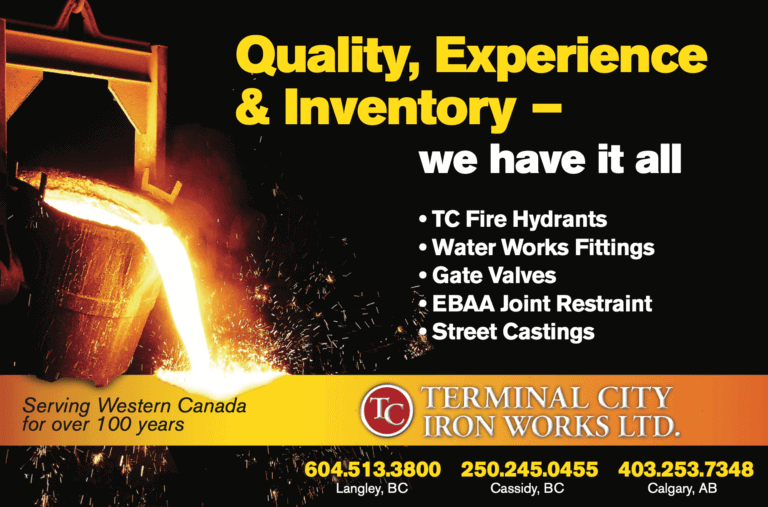 Contact Us
From our two locations in British Columbia and one in Alberta, we proudly serve Western Canada, Northwest Territories, Yukon, and beyond. If you need dependable waterworks for your city or private venture, you can count on Terminal City Iron Works Ltd. to meet your needs.
To learn more about how we can serve your municipality or business, call us at +1-604-513-3800. We look forward to helping you find a lasting waterworks solution.­